Delight by candlelight...
Discover our most loved products for the colder months. From miniature candles to our show stopping luxury range, we've got all your cosy home fragrance needs covered!
Shop Now
Shop Our Best Selling Candles
The Discovery Set

The Key

The Moth
EXPLORE OUR Best Selling diffusers
The Crown

The Key

The Beetle
DISCOVER Our top candle care tips
1). The first burn...
Provided you allow your candle's first burn to melt the wax all the way to the edge of the glass, your candle should continue to burn beautifully, with no tunnelling for the remainder of its use.
2). Trim your wick...
We always recommend that you trim your wick to about 5-6mm before each use. This will help your candle to burn cleanly and evenly, with very little/any black smoke.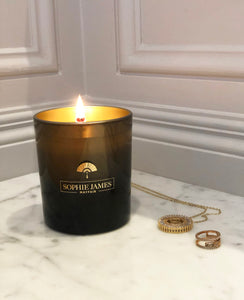 3). Keep away from draughts...
Always position and keep your candle away from any draughts when lit. This will ensure that your candle performs as intended and prevents any build up of wax at the side of the glass.
Customer reviews
I'm a massive candle addict and use a range of candles in my home, but I can genuinely say that these are the best for me in terms of scent strength and burn quality.

I wouldn't hesitate in recommending them, be it for yourself or a gift for a friend or loved one. Just a word of warning, you'll be hooked!

Cleo Lacey @demicouturestylist
I can't believe how amazing these candles and diffusers are!

I went for 'The Key' and it is my new favourite scent. It reminds me of my trips to the Middle East and brings back some of my happiest memories. I will definitely be buying more of these beautiful products.

Calista Hutchinson @thebarnatmanorfarm
I love candles and have tried most 'High End' products, but these candles are most definitely my favourite. Not only are they technically great, but they also have the most amazing, long lasting fragrances.

'The Crown' is my favourite and it is absolutely sensational.

Carron Kitchen