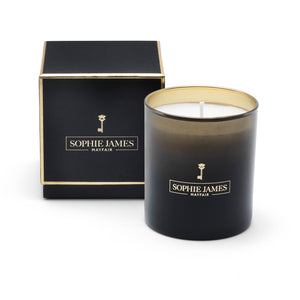 SCENT DESCRIPTION:
A chypre floral accord with notes of oud, rose, geranium, jasmin, clove and praline resting on a rich velvety base of cedar and sandalwood, vetiver, amber, musk, vanilla, patchouli and a hint of raspberry.
Our key symbolises the heart of the home. Wood from the Oud forest was collected by its neighbouring people to warm their homes on cold winter evenings, the scent would cover the whole region for tens of kilometres. Travelling preachers from the Arab Peninsular were attracted by the beautiful aroma and when entering the village asked an owner of a house what the source of the smell was. The owner of the house offered the wood to preacher as a gift for his Sheikh because he was so pleased with the smell.
PRODUCT DETAILS:
Weight 220g
100% vegan, plant based waxes. 
Paraffin and paraben free.
Burn time 220g – Up to 60 hours.
Made in the U.K.

CANDLE CARE:
Expect your candle to burn evenly and cleanly, provided you allow your candle's first burn to melt the wax all the way to the edge of the glass (this can take a few hours).
In order to prevent any black smoke, always trim your wick to 5-6mm before each use. To maintain the perfect burn and to avoid any tunnelling, always aim to repeat and follow the above instructions.
Remember to protect the surface on which your candle sits and to keep away from any draughts. Please always keep you candle out of reach of children and never leave it unattended.